You're on vacation. You know it's going to happen – ice cream will call your name. Here's some good places when you want to give in to that temptation. Listed in the order I recommend them.
Brusters (4.5 stars on TripAdvisor), one of the best ice cream stores in town and my favorite. They make their own ice cream, vary the flavors regularly, and scoop generously. Take out or sit at an outside table. They are located on the south side of Highway 98, 1.6 miles west from Marigot Place.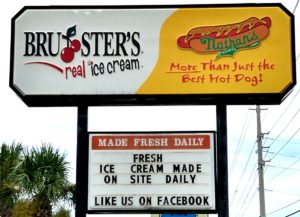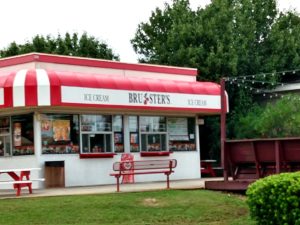 Shakes Frozen Custard (4.5 stars on TripAdvisor) is an excellent frozen custard stand (my #2 choice), a little ways west of Airport Road, 5.1 miles west of Marigot Place. Select vanilla or chocolate custard then add your choice of a number of ingredients. Turn into the street for Gulf Terrace, between a Waffle House and Chic-Fil-A. Order at the drive thru or the window. No inside seating. At 1065 US-98, Destin.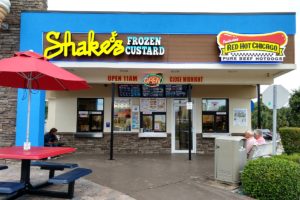 Kilwin's (4.5 stars on TripAdvisor) offers ice cream, chocolates and Mackinaw Island-type fudge. In the Grand Boulevard Shopping Center across from P.F. Chang's Chinese restaurant, 4-5 miles east of Marigot Place. There are tables outside.
You know Ben and Jerry's ice cream, of course. There is a store in the Market Shops at Sandestin. Eat in or on the outside plaza. This is a shopping center on Hwy 98, just west of the entrance to the Sandestin resort complex. 9375 Emerald Coast Pkwy, Miramar Beach.
Frozen Dune Cold Rolled Ice Cream (3 stars on Yelp). This is a small ice cream shop close to Marigot Place right on the beach road, about a block east of Pompano Joe's, in the same building as a Paradise Found beach shop. Offer Sushi, smoothies and ice cream. Their cold rolled ice cream is ice cream with several toppings, rolled on a cold plate for about $7.50. They also scoop 6 flavors of Hershey's ice cream for $2.95 for one scoop. Decent ice cream, but Brusters and Shakes are better.
Moo La La Ice Cream and Fudge (2 stars from me) In a new shopping center right off Hwy 98 and SeaScape Road, about a mile west of the Silver Sands Outlet Mall. Their ice cream is good, but other places (Brusters above for example) scoop more generously. I wouldn't recommend making a special trip for the ice cream. They also offer fudge.